Bio & info: Ted's Road Show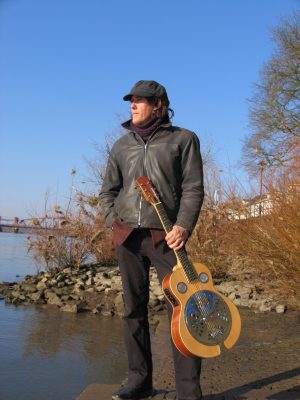 I like to introduce you to the English duo: Ted's Road Show.
Ted's Road Show is a duo who are originally from Wolverdampton in England.
Their style of music is mostly blues, country, rock, pop & ballad covers of Johnny Cash, J.J.Cale, C.C.R, Neil Young, Jimi Hendrix, B.B. King, Robert Johnson, Muddy Waters and their own songs in the same direction. Their music can be found on the website www.fredtwigg.nl or on the Facebook page of Café het wapen van Stolwijk video's (21 April 2018) and on YouTube: Fred Twigg 'Long time travelling'.
Fred has been a musician for years and played in various bands in England and the Netherlands. He also started his own festival for the homeless in Utrecht, where he supported big names like : Hans Dulfer, Hallo Venray, Supersub, Allez Mama and Ome Cor ( aka Jos Lindsen well known from the TV program: Hello goodbye) with his own band The Silent Scream.
He also earned his reputation with Ted's Road Show.
Ted's Road Show have performed in pubs, festivals ( Freefall festival in Arnhem, Bluesroute in Cuijk, Kwaderdamme & Coevorden, Midsummer festival in Texel) and small venues in the Netherlands, Belgium and Germany.
Ted's Road Show are:
Ted : vocals / guitars & harmonica
Willem : acoustic guitar / vocals
On the website are 3 numbers on video:
Ramblin on my mind, Robert Johnson
Who'll stop the rain, C.C.R.
Like a huricane / Neil Young
The repertoire exists of 3 sets around 45 min. so the whole gig will take up to around 3 hours.
Ted's Road Show is very suitable for pubs, small venues and ( outdoor) festivals.
The duo has their own equipment and P.A.
A gig of approx. 3 hours costs 300,=/ 350,= Euro ( incl. travelling costs etc.)
Ted's Road Show can be booked solo or as duo and acoustic or electric.
Videos
For bookings and more info phone or mail:
Green Line Promotions
0031 (0) 641220510
0031 (0) 640786992