Biografie & info: Ted's Road Show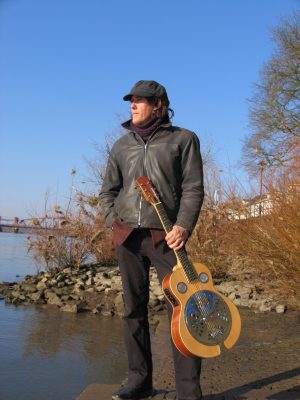 Beste mensen,
Hierbij wil ik jullie graag voorstellen aan het Engelse duo Ted's Road show.
Ted's Road Show is een duo dat oorspronkelijk uit Wolverhampton,Engeland komt.
Hun muziekstijl bestaat voornamelijk uit blues, county, pop, rock en ballade covers van o.a. Johnny Cash, J.J. Cale, C.C.R., Neil Young, Jimi Hendrix, B.B. King, Muddy waters ,Robert Johnson en eigen werk in dezelfde richting.
Fred is al jaren muzikant en heeft in verschillende bands gespeeld in Nederland en Engeland. Hij heeft ook een muziekfestival opgezet voor dak- en thuislozen in Utrecht ,waar hij met o.a. Hans Dulfer, Hallo Venray, Supersub, Ome Cor (Joris Lindsen bekend van TV o.a. het programma 'Hello goodbye') heeft samengespeeld met zijn band The Silent Scream.
Fred heeft ook als solo muzikant zijn voetstappen verdient met Ted's Road show waarmee hij in kroegen , kleine zalen en festivals ( o.a. het Freefall festival in Arnhem, Midsummer festival in Texel, bluesroute/festival in Cuijk, Coevorden, Kwadendamme e.a. ) in Nederland / Duitsland/ België en Engeland.
Ted's Road Show bestaat uit:
Ted: zang : gitaren en mondharmonica
Willem : akoestische gitaar en zang
Op de website staan 3 nummers op video
Ramblin on my mind, Robert Johnson
Who'll stop the rain, C.C.R.
Like a huricane / Neil Young
Social media : Youtube video Fred Twigg Long time travelling. 3 Video clips op www.fredtwigg.nl
Het repertoire bestaat uit 3 sets van +/- ¾ min, dus een optreden duurt +/- 3 uur.
Ted's Road Show is uitermate geschikt voor kroegen, cafés, kleine zalen en buiten optredens.
Het duo beschikt over een eigen geluidsinstallatie.
Het optreden van bovenstaande tijd kost 300,= / 350,= Euro. ( Dit is incl. reiskosten e.d.).
Ted's Road Show is te boeken als solo en duo / akoestisch of elektrisch.
Videos
Voor meer info en boekingen:
Green Line Promotions
info@fredtwigg.nl
www.fredtwigg.nl